Archive for November, 2011
Wednesday, November 30th, 2011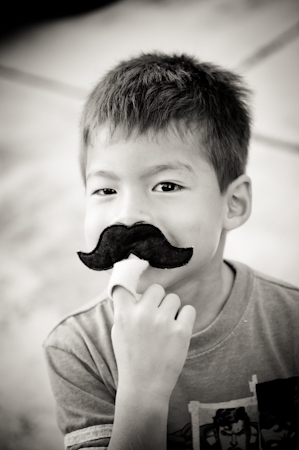 Thursday, November 10th, 2011
Last weekend we got together with Noah's best buddy, Charlie, for a bike ride.  Charlie is an amazing bike rider – in he's incredibly FAST!  While Noah can outrun most anyone he's not nearly as peppy on two (+2) wheels.  So we're working on it!
Kate, as usual, marches to the beat of her (very slow) drum.  We also think she may need a "big girl bike".  Will it help?  Nah, but she'll be more comfortable for sure!
The only trouble with being so speedy – is the corners!  Thank God for helmets and rubberized kids!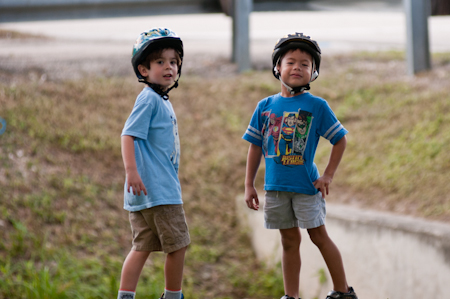 He may be perfect for the circus on this thing!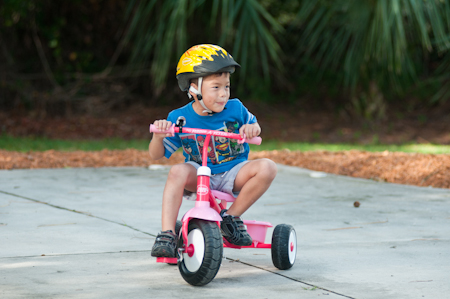 Along the route the bigger kids (Walter and Evan) found this gigantic spider.  The kids were fascinated but it was the guys we couldn't get to stop bothering this poor critter.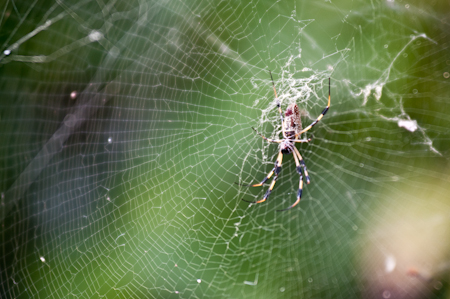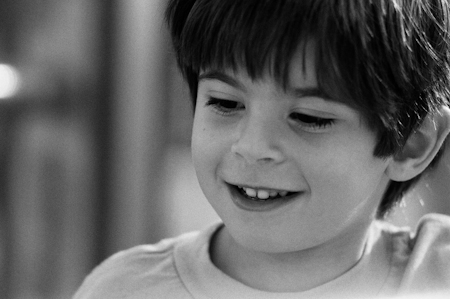 Then we headed over to the playground in case that had any steam left to burn.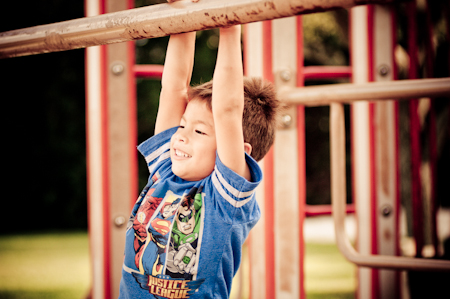 We didn't know it, but Noah is excellent at the monkey bars and hand walking down beams!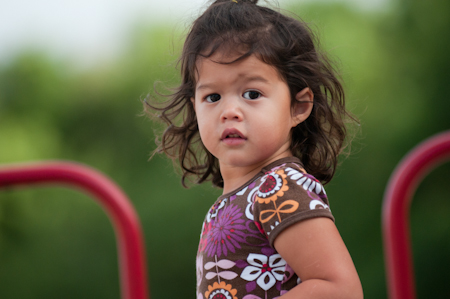 EVERYONE enjoyed our date!  Thanks, Rachel, Evan and Charlie for a fun time!!
Sunday, November 6th, 2011
Halloween has come and gone but somehow we still have POUNDS of candy left!  The kids did really well trick or treating this year.  It's so nice that they're finally at the ages where they can actually trick or treat – like you're supposed to.  Noah and Ayla rang doorbells, said trick or treat, thank you… and Kate was on their heels with her bag wide open most the night.  It was awesome!
Noah was a shark again this year, his favorite costume yet!  Hopefully he'll move on next year, especially since his arms "hulk out" of it every time!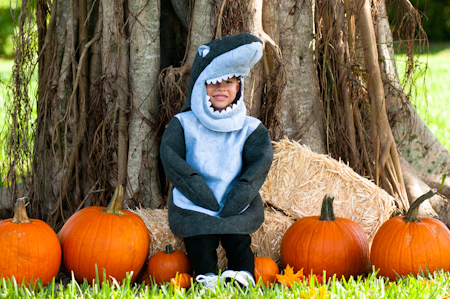 Kate was a "scary, pink monster" despite most people calling her a chicken.  It wasn't a character, just a cute costume, but she really animated it!!  She also loved how soft and fuzzy she was and constantly petted her belly.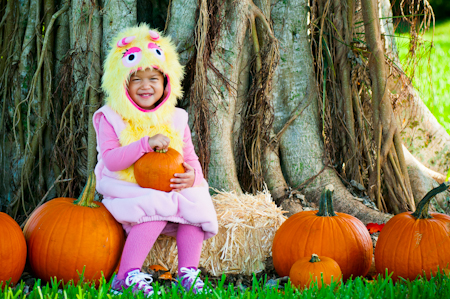 Noah and Kate were very excited to carve a pumpkin this year!  I assumed they realized a pumpkin patch meant photo op.  Unfortunately it took them a bit to get used to the idea but they finally came around!  We went to the pumpkin patch and Lindy, Shane, and Natalie met us.  It was a great day!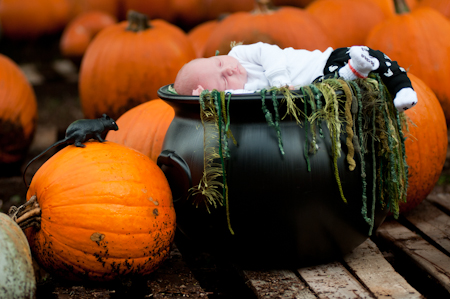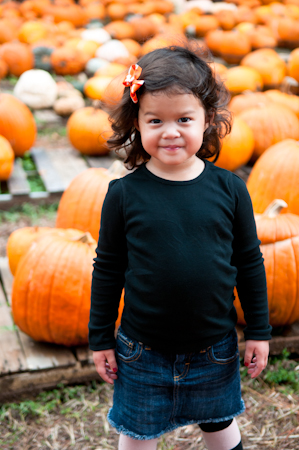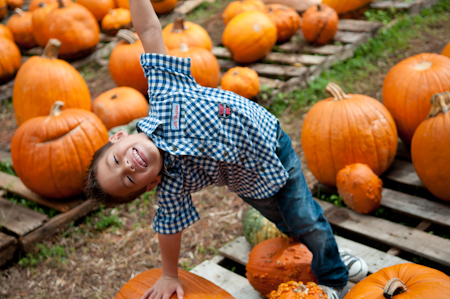 These squeaky black mice were life savers!  The kids loved them!!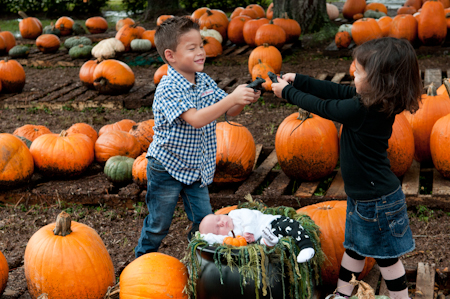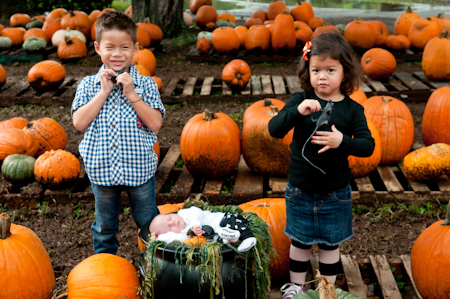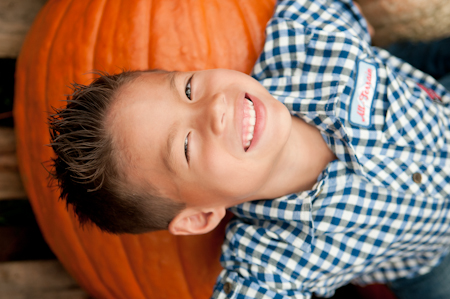 As usual, I took my opportunity to torture Shane.  Some day he will thank me for all these photos… right?!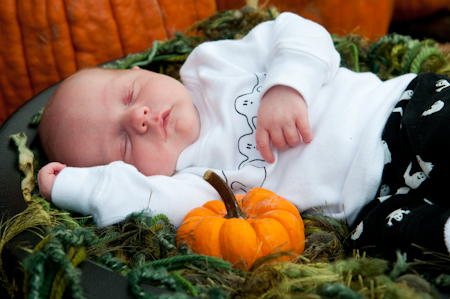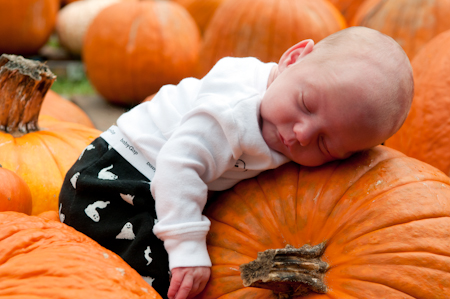 This swamp was disgusting!  I took of my shoes and walked into it, carefully balancing a baby in a cauldron.  The gush between my toes was definitely Halloween inspired!  I'm hoping these photos are worth it!!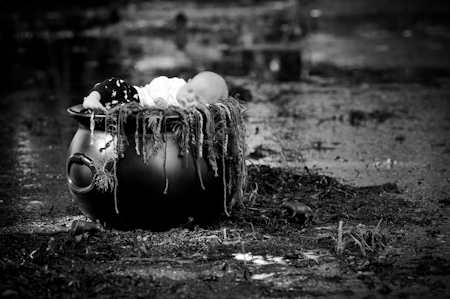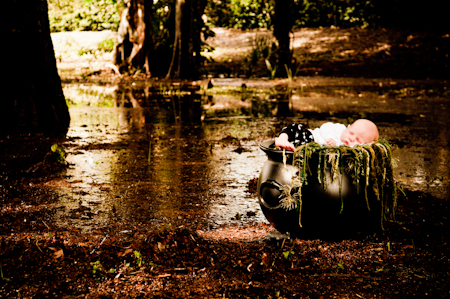 And though we loved the idea of a baby in a pumpkin, it wasn't easy and Shane wasn't a fan!!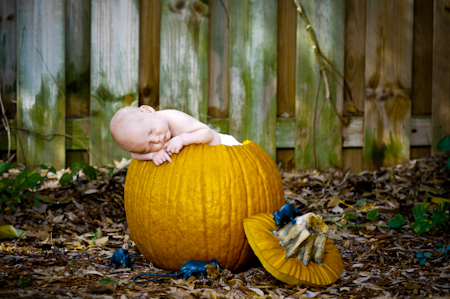 And how we went out…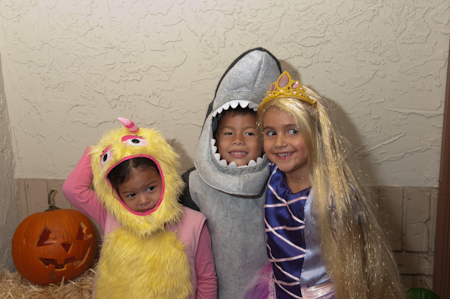 Unfortunately Noah got sick in the car on the way home from school (I think it was too much candy during the day + the whole box of Nerds in his mouth + the balloon he was trying to blow up….oy), so he had to trick or treat in shorts.  He didn't seem to care.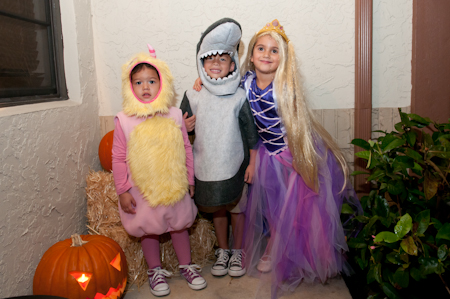 Hope you had as great of a Halloween as we did!!