Friday, March 6th, 2009
Walter and I were really hoping to get Noah back to Disney now that he's a bit older and really into Mickey Mouse.  Our last visit was a bit of a disaster and no one enjoyed it.  A great opportunity (excuse) came knocking on our door and we couldn't pass it up – The Brady's were Disney bound!  Kimmie, Kelly and the twins (Sydney and Peyton) moved to DC a year ago and we miss them terribly so there was no question that we had to make this work, and we did!
We were very ambitious and decided to go up and back in one day.  Kate stayed with my mom since she's still not a fan of the great outdoors – or crowds, or car rides, or eating on the run.  We went up super early and met the Brady clan at their hotel, The Polynesian.  The girls lei'd us but I'm pretty sire Sydney ended up wearing everyone's petals.
Syd on the monorail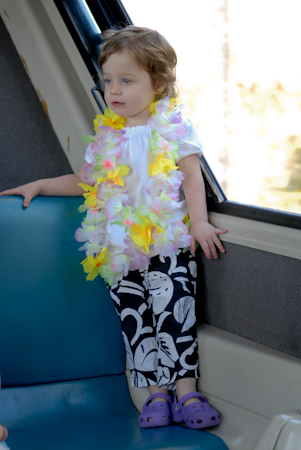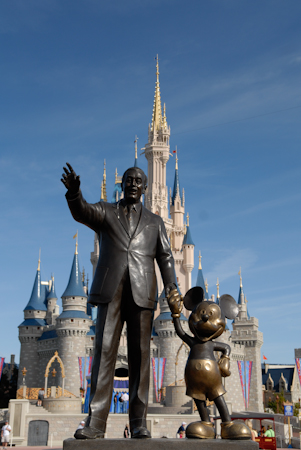 The barbershop was our first stop.  Noah needed a haircut (we were having family photos the next day) and the cuts at Disney are quite the experience.  Of course he wasn't thrilled but like a good kid he put up with my request.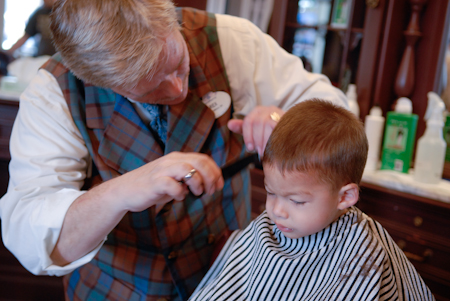 He even let the guy put sparkles all over him.  Someone commented that Tinker Bell must be spitting up again.  Noah got a box of chewy Gobstoppers at the confectionery for his tolerance.  He wasn't sharing those with anyone!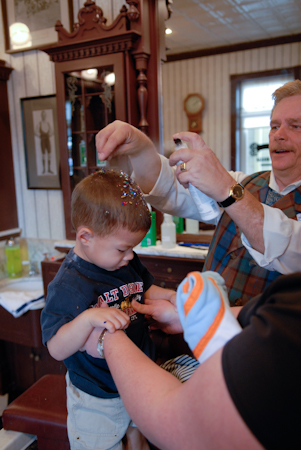 Here we are at the castle now -                                            and before.  Noah still hates the camera lady!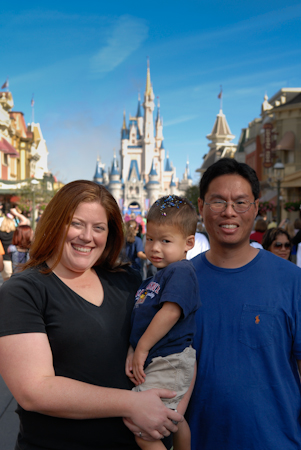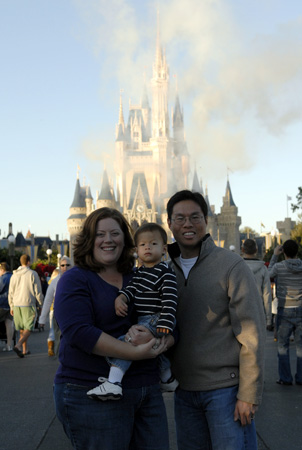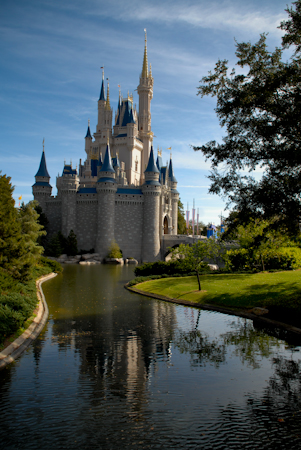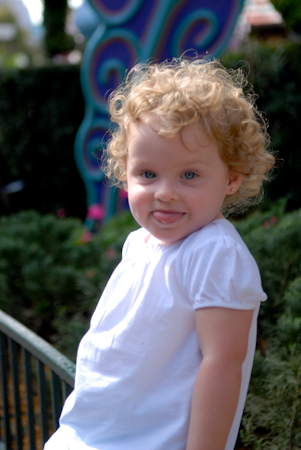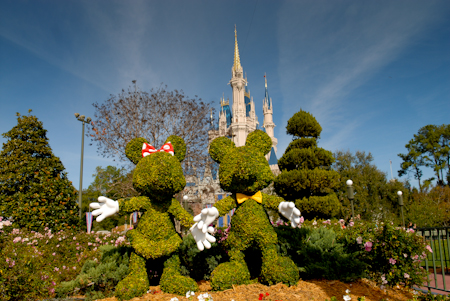 Noah's first ride was Buzz Lightyear.  He loved it!  Even waiting in line was fun!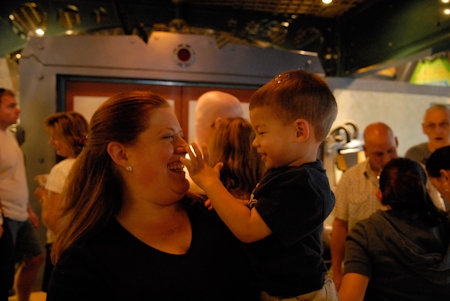 You basically ride around in your cart and shoot at targets.  Noah was our navigator (to ensure motion sickness to all!)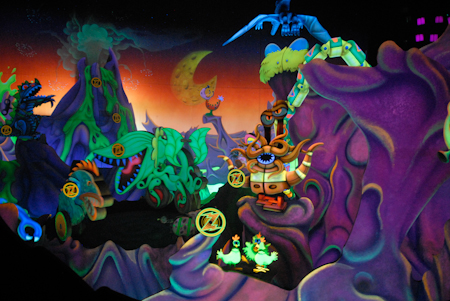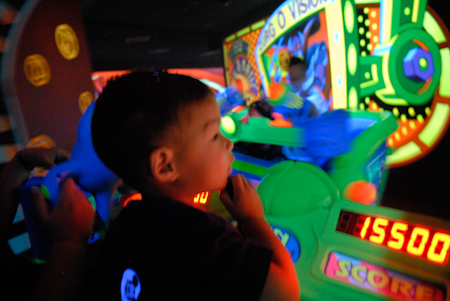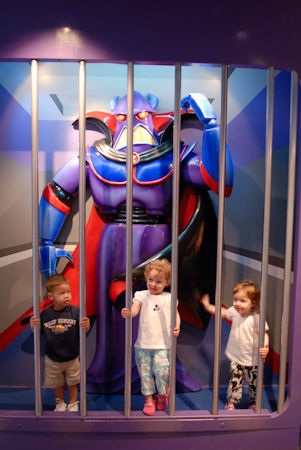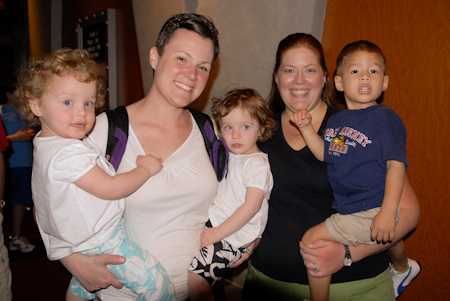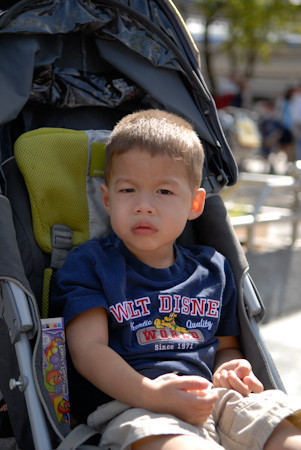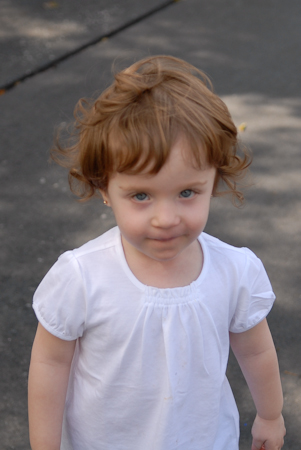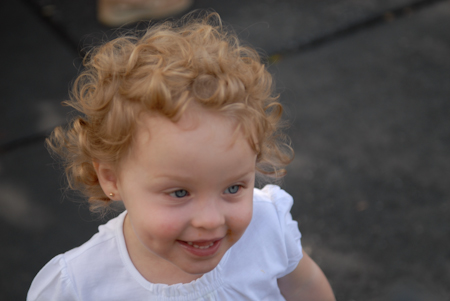 There was no way I was getting on those teacups, they make me so ill!  Luckily Walter and Kimmie agreed to take the kids.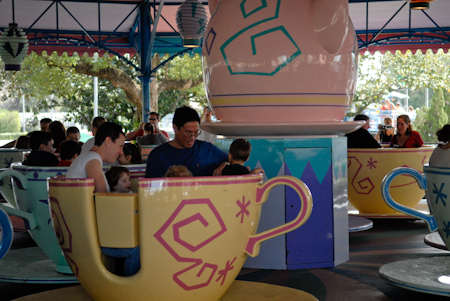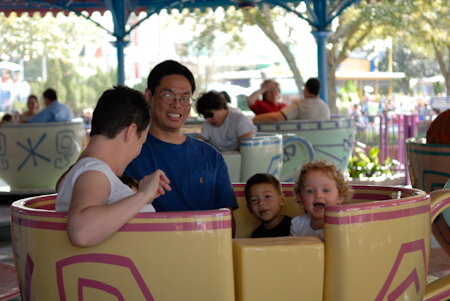 It was a gorgeous day!  It wasn't very crowded either.  Wednesday is the day to go!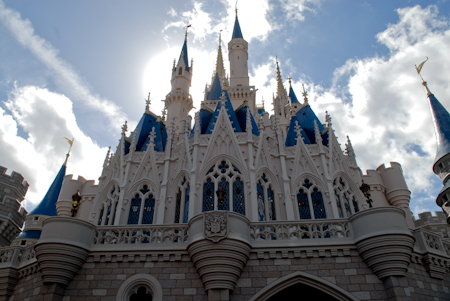 Everyone on the carousel!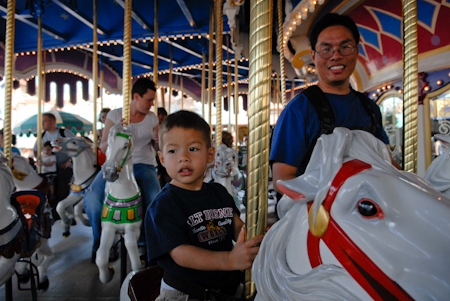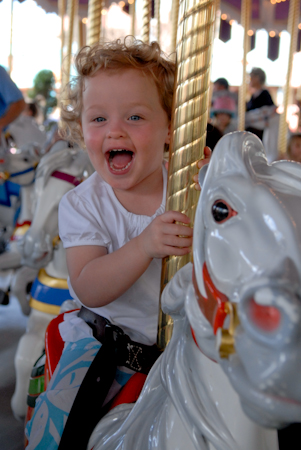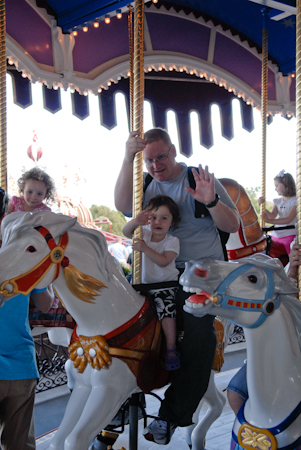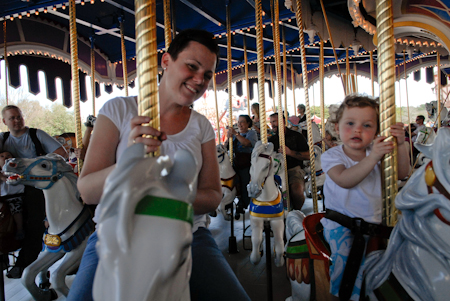 Then we headed to "It's A Small World".  I'm not sure what the lure is there but the kids loved it!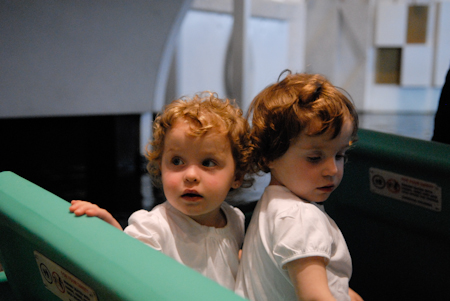 The Brady's went back for a nap but we stayed.  Noah had to see the parade!  He loved all the characters!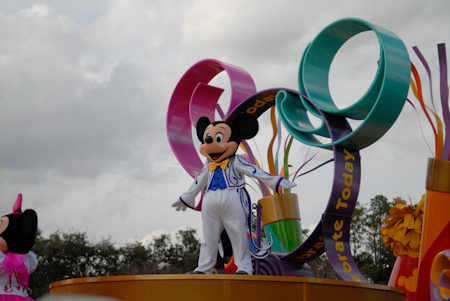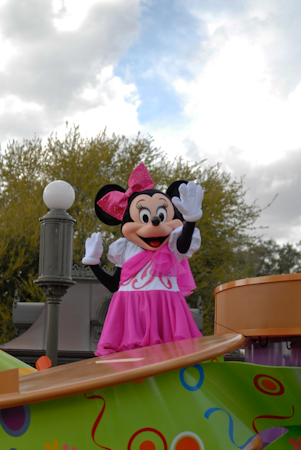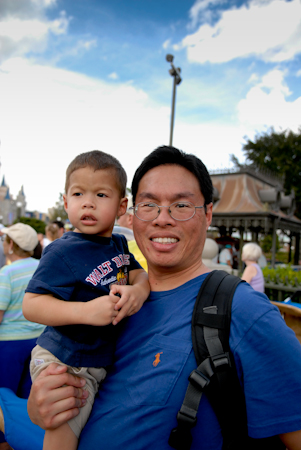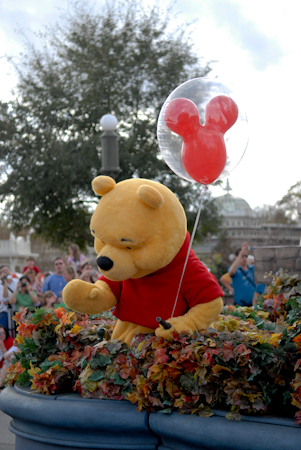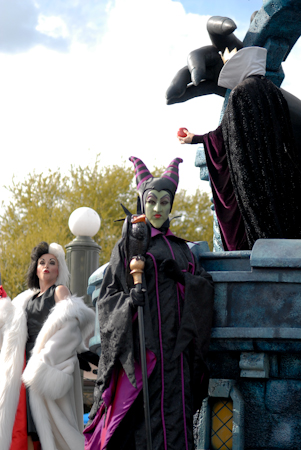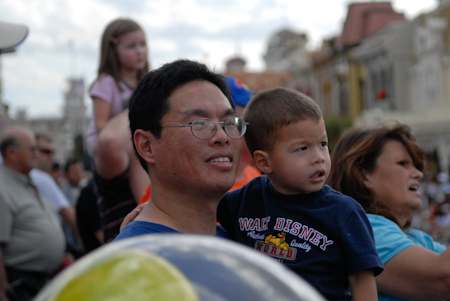 And then a past wedding couple came to visit!  Victoria and Irwin live in Orlando and they recently had a baby, Jake.  We were very lucky that they were able to pay us a visit!  Isn't Jake gorgeous!?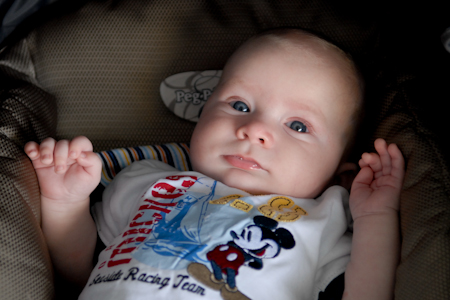 I haven't seen them since their wedding (photo courtesy of Focused on Forever) and I have never seen them happier!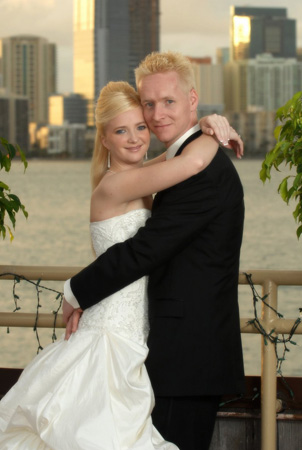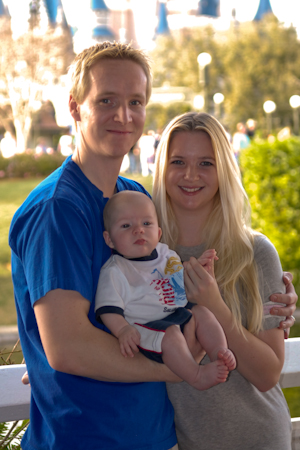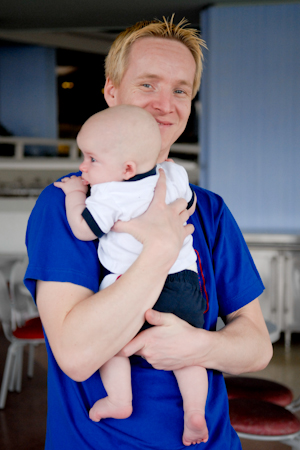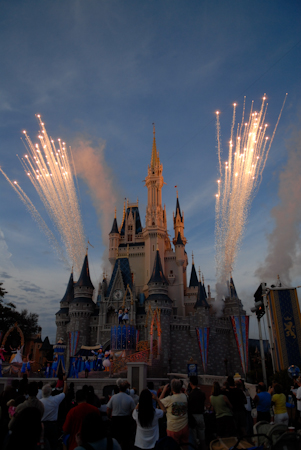 After the character performance we went back to the Brady's hotel.  Back in the day my sister, Lindy, made them dresses for their first birthday.  She wanted to see how they worked as shirts so although the lighting was quite unfortunate we got some fun photos and the kids had fun running around.
Here are the girls when they first got the dresses -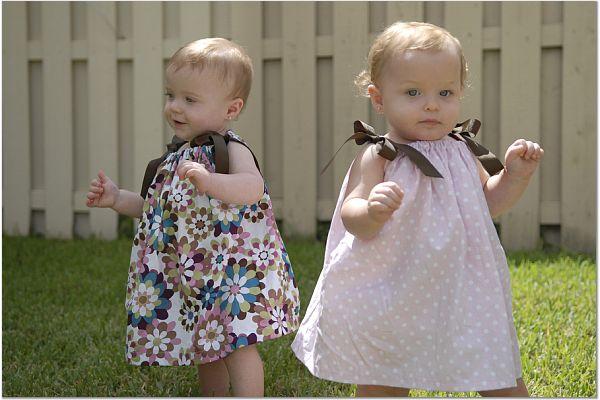 And now -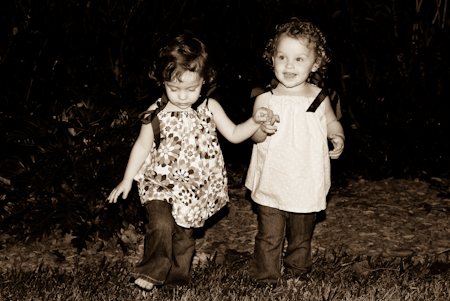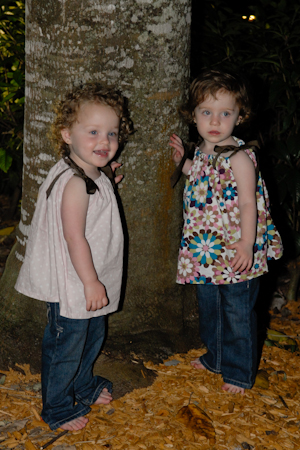 The whole Brady Bunch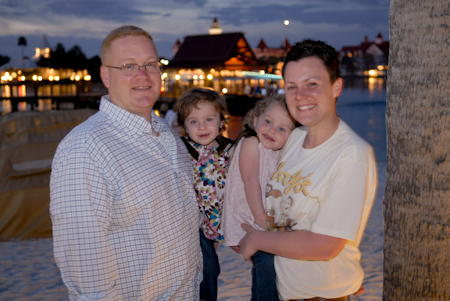 "Look!  Here's how you get out of this thing!"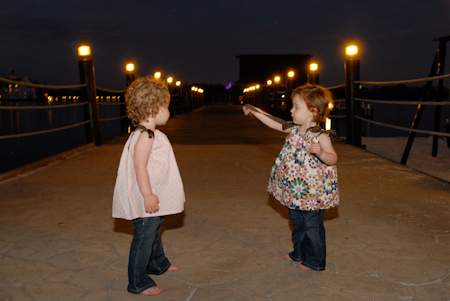 Sydney had quite a crush on Noah all day so we let them go for a romantic stroll under the moonlight.  Rest assured, it turned into a healthy game of "Boo!" very quickly.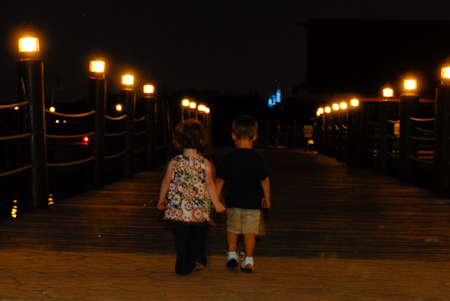 After the kids ran out of steam the Brady's treated us to dinner at their hotel.  It was the Disney version of Chima and the bread pudding was to die for – really!  We headed home after dinner, around 10pm.  If I had it to do over I would have either stayed over or left after the fireworks (at 7pm).  It was a very tough drive home but so worth it for the time we got to spend with our good friends.  Hopefully we can get together before another year has passed!