Monday, March 31st, 2008
This weekend we went up to Orlando with the Friedman's (Rachel, Robby and Ayla) to see our friend (and my colleague) Karla Fountain (www.karlafountain.com).  She's a wedding photographer who is starting to offer family and child portraits.  We had a wonderful time playing at the JW Marriott and Ritz Carlton up there and we're so excited to see the photos.  Being patient is so challenging!  Here are a few from the weddings Karla and I have done together, she's amazing!
While we were up there we decided to go to SeaWorld as well.  We took Noah about a year ago and while he had fun he had no idea what was going on.  This time around he was much more into it.  We had breakfast with Elmo and his friends where Noah decided they should be BFF.  He loved petting Elmo and posing with the other characters.  He took several turns going up to see them and wasn't afraid of anything.  Ayla on the other hand needed to warm up a little before getting too close.  She's their biggest fan when it comes to Sesame Street on TV but must have been a little surprised to find out they are so big!  Other highlights from the day included the animal shows (doesn't everyone love Shamu?), the kids' play area where Noah got to take Walter on a big ride, and the Elmo show.  Less enthusiastic moments were highlighted by the meltdowns just prior to nap time.  We all had a great time though and with a complimentary upgrade to a seasonal pass we can't wait to go back!
Ayla warmed up enough to share a smooch with her main man, Elmo!
And the Cookie Monster almost started his stand up act.  The characters were so much fun!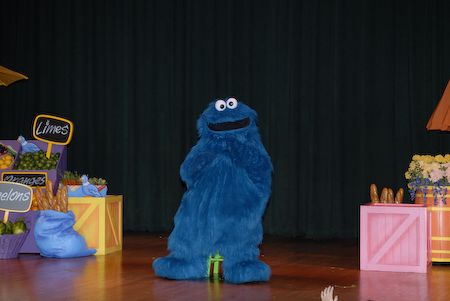 And here's Noah standing in for the real trainers – Shamu, JUMP!
The show was incredible!
And then Noah treated us to some entertainment in the kids' play area…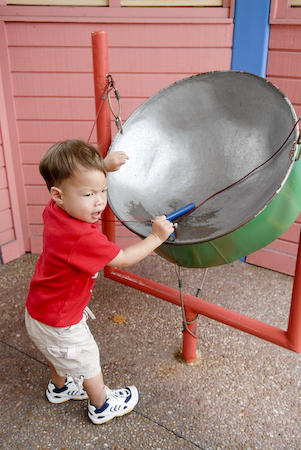 Before dragging Walter on to Jazzy Jellies.  Walter says he grinned ear to ear through the whole ride.  He didn't want to get off!  I could never go on this thing, it makes me queasy to think about the spinning!
And Ayla had her caricature drawn -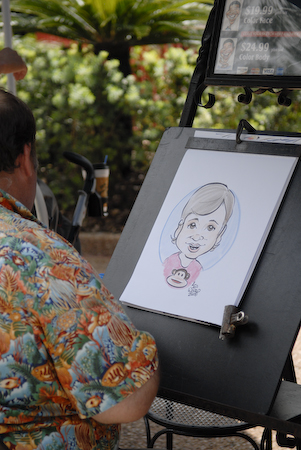 While they napped we checked out some more animals…
Once they were up we made our way over to "Elmo and the Bookaneers".  I've never seen these two so mesmerized!  Noah sat still through the entire show (quite a feat if you know him), he clapped, Ayla danced, it really was a treat!  It's funny how you get so much joy from your child's happiness once you're a parent.  I never would have gone to this show before Noah and now I'm thinking it was one of the best parts of the whole day.  Go figure!
Like mother, like daughter…