I know every year I tell you how fast the past year flew by – but seriously? Nine is huge! You are so much more than a "kid" now. You're a boy, a young man. You are less snips and snails, and puppy dog tails and more wild, strong willed, and mischievous. This is your last year in the single digits (10 will certainly be a tear jerker) but with monkey wrapped tight around your neck at night (yes, still) this will be a crazy, fun time and I will love watching you blossom.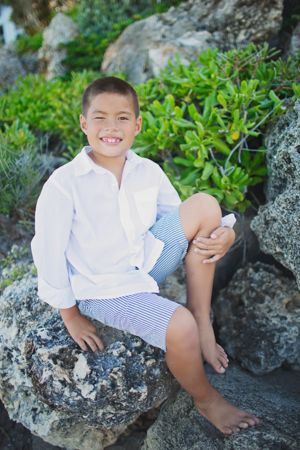 You are, and have always been, a rule follower. You ask for permission and even when you don't like the answer, you respect our decisions. You're still very introverted with people outside of your circle. I've worked on not forcing you into being social this year because it's just not you. Sometimes I get embarrassed because you can pick the most inopportune time to clam up but you're getting old enough to navigate that on your own so I'm working on letting you do just that.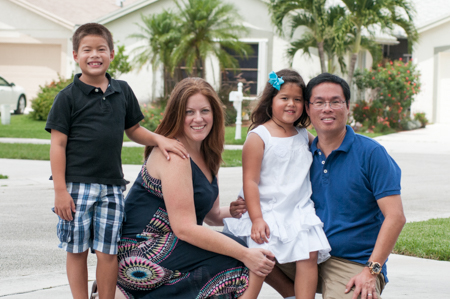 You love your family. You are happiest when we are all together. That doesn't mean you don't torture your sister and push my buttons every chance you get, but it gives me huge warm fuzzies that you want us all and that most of the time, that is enough. You still have all of your grandparents but they are getting older and some of them aren't in the best of health. I feel so fortunate that you are at an age where you will always remember them. I treasure the memories of my grandparents and hope you will as well. They love you so much and they are such a part of who you have become.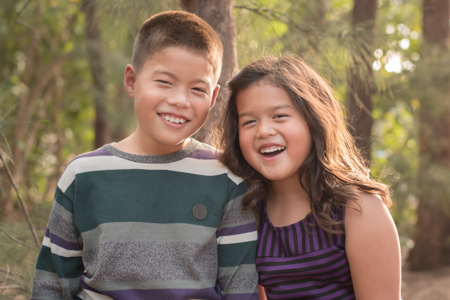 We finally got the dog you've asked for since you were old enough to speak! We surprised you with a whoodle (soft coated wheaton terrier mixed with a miniature poodle) named Maggie. You are her world and you are as amazing to her as I always imagined. I hope having her will teach you about love, compassion, and responsibility. Sometimes the responsibility part gets a little exhausting but everything that's fun has your name written all over it!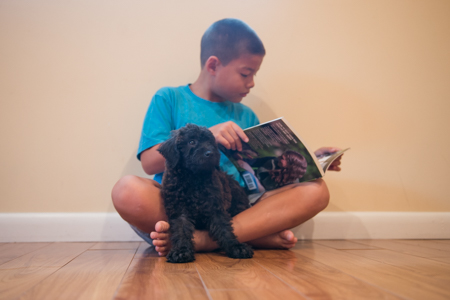 You continue to be amazing at gymnastics. We're on our second year at TAG and these kids and coaches have definitely become your people. You are still best at the vault and stumped by the mushroom/pommel but this was a good competition year for you. We traveled as far as Knoxville, TN for competitions this year. You had several more all over FL but TN was huge for you and a great excuse for a family trip (we all loved snow tubing and the scar under your left eye is courtesy of Gaitlinburg's ice skating rink). One struggle we've faced this year is passion. I'm not 100% sure you understand what that is, or that you're even mature enough to feel it, but your commitment to gymnastics was a little bumpy for a bit. We want you to LOVE your sport, to FIGHT to improve, and show us how determined you are. Instead you're very nonchalant about the whole thing and you are comfortable just doing what they ask, not pushing. You are very unimpressed with Olympians which is partially because you think they are "nice people who are just really good at gymnastics" and partially because you think they are your peers. I just signed you up for a swim team. I'm hoping it will be easier for you to tell me which one you like better than if you want to continue the 200 miles each week to Weston to do something you happen to be naturally good at. Only time will tell. Giving up on gymnastics might be harder for me than you. We've been at it since you were three and we've all done a lot to get you this far.
You are great at school! Your teachers are Ms. Finger and Ms. Carter. You have grown so much and done so well. You love to read now and you are so dedicated to getting your school work done, it's fantastic! This was the first year you did your own science project – and what an experience that was! I let you pick your project and promised to help the best I could. When I made that promise I didn't realize we would be determining what effect freezing has on rocks (it makes them bounce but absolutely nothing else) and I'll admit, I giggled a little when your first hypothesis was you thought it would make them softer, but we got through it. Your father shook his head at us the entire time so next year he's in charge.
You and I have become very close. Because we spend so much time together (mostly because of gymnastics), you and I have learned a lot about each other. We laugh a lot and we have so much fun but we also butt heads because we are so much alike – stubborn and always right. I love this bond we've formed!
So hey, I love you. I love you forever and for always. I wouldn't change a thing or trade you for the world! I wouldn't mind if you talked a little more or used your manners more often but I love the person you are and the young man you are becoming. You make me so proud and I am so crazy about you!!
Happy birthday, bud.